How do we protect your information?
DATA PROTECTION
Cigna is committed to the responsible management, use and protection of your personal data.
We restrict access to your personal data to authorized workforce members who need that information for legitimate purposes such as your treatment, payment purposes and/or health care operations. We maintain technical, physical and administrative safeguards to ensure the privacy and confidentiality of your personal data.
Our Compliance & Privacy Office and Information Protection department have installed an educational program to keep all internal employees at all times informed of current corporate data protection and privacy requirements. Compliance with the corporate policies and procedures is continuously monitored.
SECURE EMAIL COMMUNICATION
We often exchange sensitive and private information with you and we do this with the highest attention to security. To ensure that you benefit from the most advanced technologies in email security, we send all emails through a Transport Layer Security (TLS) connection or a secure email portal.
TRANSPORT LAYER SECURITY (TLS)
TLS encrypts (secures) emails to provide private email communication between Cigna and your organisation. It makes sure that no third party is able to access or tamper with our emails.
All email exchanges are:
Secure: 100% encrypted communications.
Automatic: TLS is completely automatic.
Invisible: You don't notice anything.
Instant: There are no delays or waiting involved.
Most popular public email domains have TLS, for example:
Gmail
Yahoo (with the exception of yahoo.co.jp)
Hotmail (with the exception of hotmail.ru)
Live
iCloud
If your email domain does not support TLS, all emails from Cigna to that domain will go through the secure email portal.
SECURE EMAIL PORTAL
The secure email portal is an online portal which automatically encrypts (secures) emails. It's secured via a password. This password can only access emails sent to your email address.
How does it work?
You'll receive an email notification that you have received a secure message from Cigna. It includes a link to access the email in the secure email portal.
The first time you access the portal you need to create a password that you will use each time you want to read a message from Cigna.
You can read and reply to the message within the secure portal. If you want to receive a copy of the reply, tick the box "Send me a copy". Note that we can't guarantee the security of the message if you decide to send a copy to your email address.
The portal is not an inbox and will only show one email conversation at a time.
To keep track of email conversations, keep the last notification email in the conversation. This link will lead to the full email history on the portal.
This is what the notification email looks like: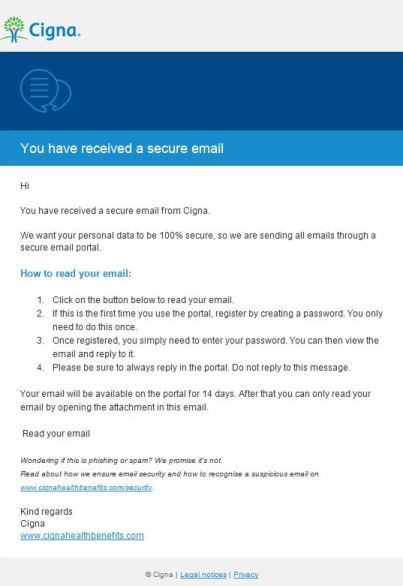 This is what your message will look like on the portal: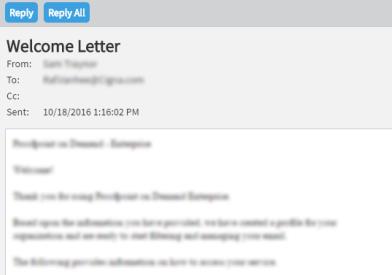 This is what it will look like when you reply to our message in the portal: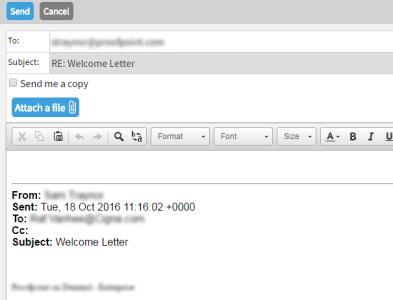 TIPS TO IDENTIFY FRAUDULENT EMAILS AND WEBSITES
Phishing is an attempt to obtain sensitive information such as usernames, passwords, and personal data (and sometimes, indirectly, money), often for harmful reasons, by impersonating a trustworthy company or sender.
As a general rule, we will never ask you to send us credit card information or account passwords in an email. If you receive an email from us asking for this information, please let us know.
Here are some tips to make sure an email is legitimate and not a phishing attempt.
The email should arrive at the address you gave us
If you receive an email at a different address, it could be a sign that the message is not from us.

Compare the email with previous Cigna emails
If you've had previous email contact with us, compare those emails with the new one. If they don't look similar, this could be a sign of phishing.

Make sure the email is from Cigna
Check the header to see where the email is really from. If the "From" email address is not @cigna.com, the email was probably not sent by us.

Be careful with links
An email could have a link that looks like it goes to our website but actually leads you to a different website that could even look exactly like ours. Make sure the link in the email matches the URL* it leads you to. You can check this by hovering the mouse cursor over the link without clicking.

*A URL or Uniform Resource Locator is a structured name identifying a webpage. Examples are https://www.cignahealthbenefits.com or http://www.google.com.

Check that the website is legitimate
If you think the URL is legitimate and you click on the link, you can still check if it's really a legitimate Cigna website. Most browsers will display a green lock on the left of the URL if you are reaching a legitimate Cigna website.
If you doubt the legitimacy of a Cigna branded email, please contact us.